Amenities of Lancaster New City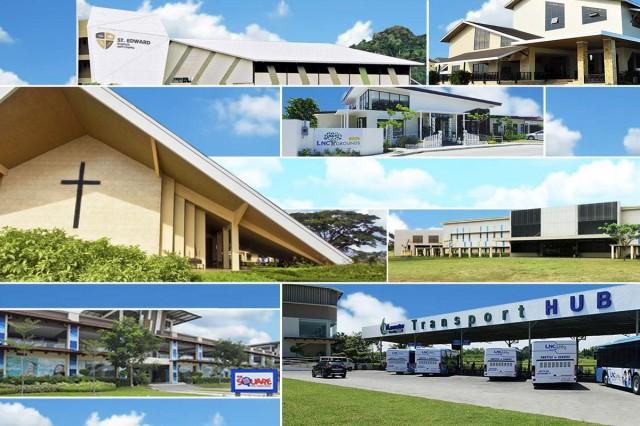 Nothing beats the feeling when you get the keys to your new home! When completed with furniture, accents, and your personal touch, you brand each nook and cranny as your own. With a space that is essentially an extension of your personality, it's fitting to set your roots in an area that suits your needs as well! At Lancaster New City, your moment of bliss when moving-in is our happiest moment too. From entering the property to exploring the amenities, we believe in giving you and your family the warmest welcome right from the beginning. Here, your townhouse in Cavite is only a slice of a wide selection of spots to visit and frequent.
As soon as the situation improves, the various amenities of Lancaster New City will be unlocked and waiting to be enjoyed. Here are some of the various activities awaiting all our esteemed residents.
---
1. LNC Grounds

Made for social and commercial gatherings, the LNC Grounds are intended to establish and forge connections. Situated in different areas in the development, each of the LNC Grounds includes different features and amenities that residents can enjoy once the pandemic is over. Lancaster New City puts the safety of its residents first and will open its unparalleled amenities once we champion the fight against COVID-19.

2. The Square

In Lancaster New City, The Square is the place to be for all retail, dining, and entertainment needs. It is considered the happy place of all our residents. Located conveniently within the property, The Square is home to over 50 stores which include Robinsons Easymart, SM Appliance, Watsons, McDonald's, PSBank, Handyman and so much more. Known as the township's lifestyle community mall, it becomes the go-to shop for groceries, to pay bills, and to enjoy a diverse dining and shopping experience.

3. Leighton Hall
When residents would like to relax and unwind without leaving the property, they have Leighton Hall. It is the first clubhouse within Lancaster New City that is complete with a function hall, a meeting room, and an outdoor pool to enjoy the cool southern breeze. Make sure to call your real estate agent in Cavite to see these amenities up close and personal.

4. Parish of the Holy Family

While we continue to fight the impending threat that is COVID-19, residents can take a quiet stroll to the church and pursue a solemn moment outside to say their prayers. The Parish of the Holy Family is a serene place of worship found within the grounds. Known for its unique and modern architectural design, this church is perfect for weddings or intimate visits to say a prayer and have a moment to yourselves. Regular Sunday masses are held with safety provisions to ensure the well-being of all visitors.
Find solace within Lancaster New City where your comfort and convenience come first. Buying a house just got easier with this newest township estate in the heart of Cavite. This cozy neighborhood welcomes you to set up roots and to call us your new home. Don't wait and contact one of our property specialists to book a visit with us soon!
---

Township Living
Lancaster New City in Cavite is a master-planned township where everything your family could possibly need are within reach. Apart from offering premium yet affordable
townhouses
and
single attached homes
for sale in Cavite, we also have The Parish of the Holy Family, a place of worship inside Lancaster New City; LNC Grounds, perfect venues for social, commercial, and community activities of the homeowners and their guests; Leighton Hall, a clubhouse with an outdoor pool; The Square, a lifestyle community mall; and St. Edward School.
With our affordable house and lot rates in Cavite, there really isn't a reason for you to keep renting on a townhouse that isn't yours. Get in touch with one of our real estate agents today to see how you can move into your dream home as soon as possible!