Lancaster New City: Where Children can Play and Relax Freely and Safely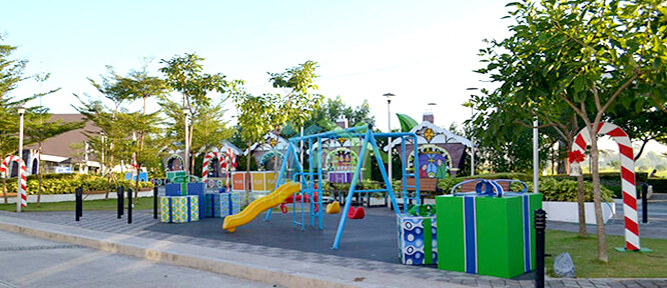 As the new normal furthers, movie theaters, theme parks, and other entertainment centers continue to remain closed. But the fun doesn't stop there! While the usual leisure go-tos are unavailable, parents make more effort within their homes to make fun bonding activities for the whole family. With limited space indoors, it's best to take the fun outside! Spending time with your kids outside is not only beneficial to their health, but also a great change of pace for all family members. The pandemic should never stop anyone from rediscovering nature and all it has to offer!
In Lancaster New City Cavite, the outdoors become an extension of their home where children can play and relax freely and safely. There are family enclaves, linear parks, and the houses themselves have enough lot space for a front yard! During the COVID-19 pandemic, check out these five outdoor activities that will surely entice you to consider buying a house in Cavite!
---

Ride a Bike or a Scooter Around the Village

Let your children feel the rush of zipping through quiet streets on a bike or scooter! Riding around the village is also a good form of exercise while they get the natural benefits of being under the sun. Don't forget to add training wheels for newbie riders!

Hula Hoop in the Garden

Not sure what activities to do outside? Keep it simple with a picnic blanket and a hula hoop! Have an afternoon snack by the garden and practice your twirls and spins after online classes. This is also a good way to give your kids a good stretch and to refresh your children's eyes from hours on the computer. Buying a house now has many considerations but ultimately, space and fresh air become one of the top priorities.

Teach Kids Gardening

Nothing is more fulfilling than seeing your plant babies grow and bloom through time. Share the experience with your kids by teaching them the basics of gardening. Allow them to plant their own seedling and to water them regularly in their chosen pots and planters. This is also a good way to teach them responsibility and care skills for living things.

Enjoy a Sunset Walk with your Pets

Even pets get antsy in a pandemic! Take your dog, cat, or pet hamster outside and give your animals the needed sun time they need. You can also walk or jog with your dog for that added exercise we can always use.

Enjoy Light Outdoor Yoga

It is never too early to teach your children the relaxing effects of yoga. Introduce the practice to your kids by giving them the complete experience outdoors. Grab your yoga mats and spread them out in the garden. Teach them basic poses but focus on explaining soothing breathing exercises that do wonders for the mind and body. Meditation also helps with calming down kids who may be feeling anxious and cooped up at home.
Call your property consultant in Cavite today and experience the different air and life in Lancaster New City.
Lancaster New City Cavite puts the safety of all their residents first. Give your children the safe space to enjoy the outdoors and rediscover nature. Book an appointment with an accredited real estate agent and move to an affordable house and lot in Cavite: Lancaster New City!
---

Township Living
Lancaster New City in Cavite is a master-planned township where everything your family could possibly need are within reach. Apart from offering premium yet affordable
townhouses
and
single attached homes
for sale in Cavite, we also have The Parish of the Holy Family, a place of worship inside Lancaster New City; LNC Grounds, perfect venues for social, commercial, and community activities of the homeowners and their guests; Leighton Hall, a clubhouse with an outdoor pool; The Square, a lifestyle community mall; and St. Edward School.
With our affordable house and lot rates in Cavite, there really isn't a reason for you to keep renting on a townhouse that isn't yours. Get in touch with one of our real estate agents today to see how you can move into your dream home as soon as possible!