Make Physical Activity a Part of Your Family's Routine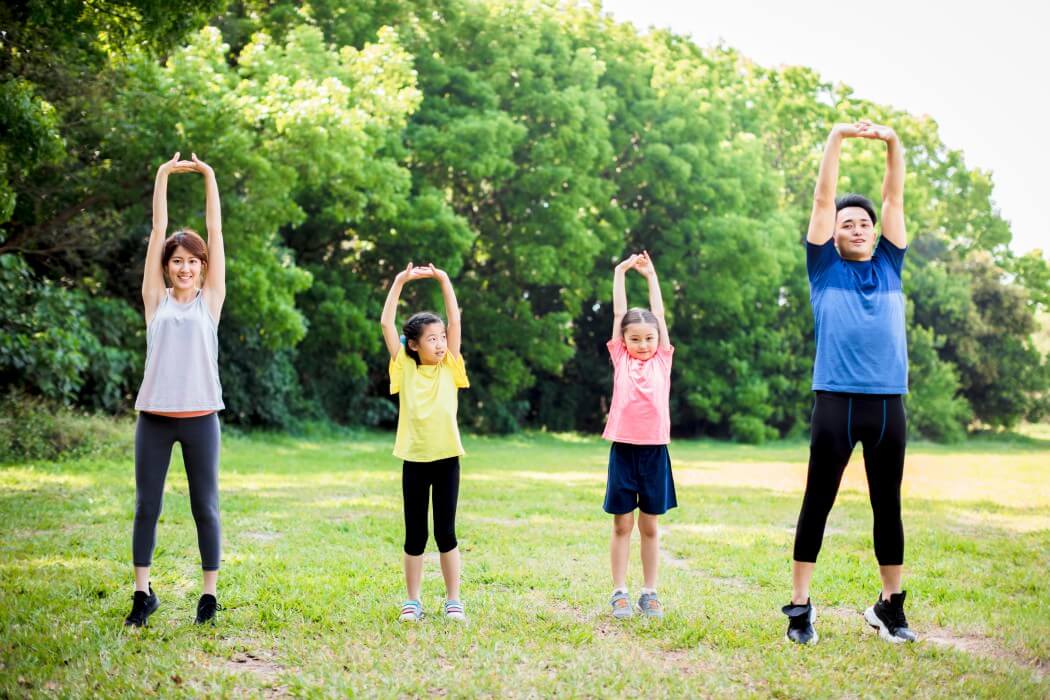 Despite the growing popularity of healthy eating and home workouts, not everyone has hopped onto the latest home fitness trend. You'd think that more people would take advantage of the lockdown restrictions to exercise or prepare healthy meals for the family but a recent study in America shows that staying at home has had the opposite effect on people's health, leading to a 27% rise in obesity.
Sudden weight gain poses a significant risk for heart disease, diabetes, and other obesity-related ailments. Creating a fitness plan may help you steer clear of these health risks.
---
Do Your Research

Every fitness plan starts with research! There are tons of available resources related to working out and dieting. If you can't find the right one, there are dedicated forums that can help you create your custom fitness plan. You can read up on the topic and watch fitness videos to broaden your knowledge.

Discuss Your Fitness Plan

Once you've completed your research, make sure to consult your family about any health conditions, injuries or allergies they may have. If you have family members who are unfit, elderly, or disabled, you have to adjust your workouts according to their needs. Create a personal workout and diet plan for each member of the family to reduce the risk of injury and harmful reactions due to allergies. They might not go along with your proposal right away but try to explain why it's necessary for people in lockdown to eat healthily and work out because of the sedentary nature of staying home.

Sweat It Out
Basic workout equipment like towels, yoga mats, and dumbbells are all you need to get started. Thankfully Lancaster New City offers single-attached houses with huge floor space to accommodate your indoor activities. Even with the addition of a sala set and dining table, the layout doesn't feel too crowded that you have to readjust your yoga mat whenever someone is passing through the living room from the kitchen. For more vigorous activities like battle rope, tire flip, and sprints, you can use the 1-car garage as your gym. A spacious Briana home is big enough to accommodate stationary exercises like yoga, indoor cycling, and running on a treadmill.
Living in Lancaster New City also gives you complete access to several facilities where you and your family can exercise together. You can lift weights and go jogging at the Family Enclaves in Glenbrook which contain workout benches, posts and fitness guides. There are wide streets in the township fit for biking activities and a basketball court beside St. Edward School – Hope Campus, if you want to shoot some hoops.

Reward Hard Work

Let's be real. Bad habits are hard to break. This is why you should consider rewarding your family whenever they reach a milestone in their fitness journey. Maybe you can treat them to their favorite food or get them a small gift for achieving a personal record. The road to becoming healthy can be frustrating at times so it's good to get a little encouragement.
Commit
Change doesn't happen in an instant. It can take weeks, months or even years to achieve your fitness goals. It's important to remind yourself and your family that progress takes time. Take a disciplined approach to nutrition and exercise and trust the process. There's bound to be a few bumps in the road, a couple of cheat days and missed workouts. The important thing is to keep pushing until fitness is part of your everyday life.
If you want to learn more about our spacious single-attached houses and townhouses, fill-out the form below and schedule an appointment with our certified real estate agent in Cavite!
---

Township Living
Lancaster New City in Cavite is a master-planned township where everything your family could possibly need are within reach. Apart from offering premium yet affordable
townhouses
and
single attached homes
for sale in Cavite, we also have The Parish of the Holy Family, a place of worship inside Lancaster New City; LNC Grounds, perfect venues for social, commercial, and community activities of the homeowners and their guests; Leighton Hall, a clubhouse with an outdoor pool; The Square, a lifestyle community mall; and St. Edward School.
With our affordable house and lot rates in Cavite, there really isn't a reason for you to keep renting on a townhouse that isn't yours. Get in touch with one of our real estate agents today to see how you can move into your dream home as soon as possible!