Cleaning and Disinfecting Your Home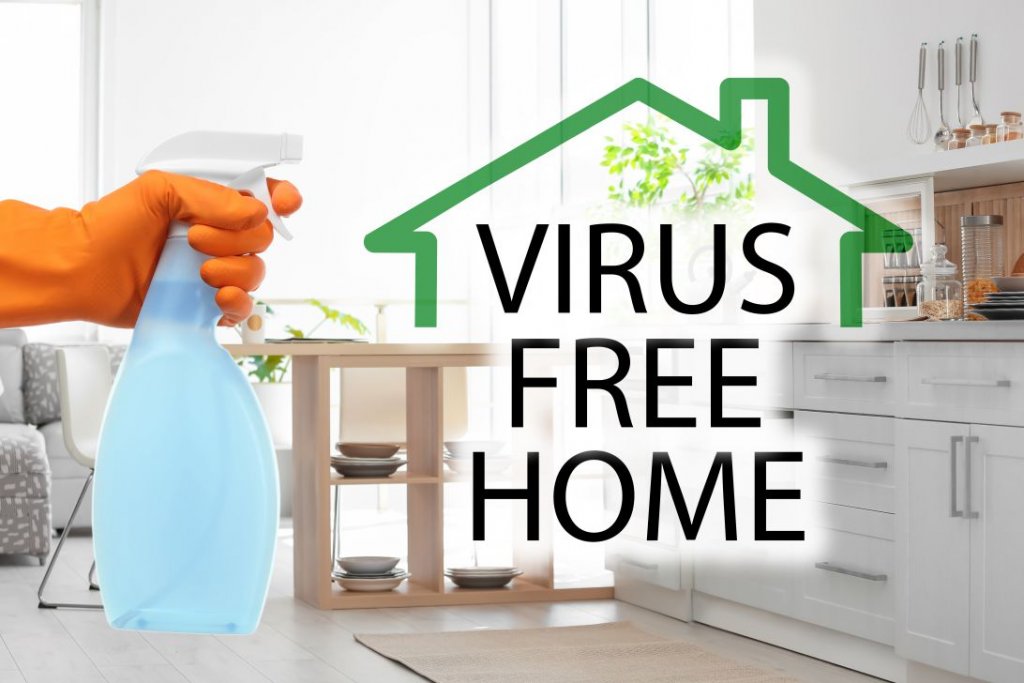 We all know that COVID-19 spreads primarily through respiratory droplets that enter the mouth, nose, or eyes. But the virus can also live on surfaces for up to several days and cause germs to spread. People can get infected when they touch their mouths, nose, or eyes after touching contaminated surfaces. To reduce the risk of infection, the Center for Disease Control (CDC) recommends regular home cleaning.
In this article, we'll teach you how to effectively clean your home against COVID-19. First, let's discuss some recommended cleaning products.
---
What cleaning products to buy
Bleach
Spray Disinfectant
Disinfectant Wipes
70% Rubbing Alcohol
Cleaning Rag
Many common household cleaning products can kill the virus and reduce its spread. Stock up on these cleaning agents and use them as needed to protect your family. We don't recommend buying alternative cleaning products that aren't EPA-approved.

Cleaning the home
High-use surfaces must be cleaned on a regular basis to prevent germs from spreading throughout the home. Common high-use surfaces may include tables, chairs, handrails, kitchen and bathroom surfaces, taps, toilets, light switches, mobile phones, computers, tablets, keyboards, remote controls, game controllers, and toys.
Bleach is one of the most effective household cleaning products to use against viruses like COVID-19. Combine half a cup of bleach and a gallon of hot water. Dip your cleaning rag in the solution, wring any excess liquids from the cloth, and use it to wipe down surfaces such as tables, hard-backed chairs, doorknobs, light switches, remotes, handles, desks, toilets, and sinks. Don't use bleach on fabrics such as rugs, carpets, and curtains because it can cause discoloration. Don't add vinegar to your bleach and water mixture because it will produce toxic chlorine gas.
When cleaning with spray disinfectants, make sure to leave the area wet for several minutes before wiping it down to allow the disinfectant to take effect. Household products labelled "disinfectants" are designed to kill various kinds of bacteria and viruses. The CDC advises looking for products with EPA-approved emerging viral pathogens claims for killing COVID-19.
Disinfectant wipes have a wide range of cleaning applications. They can be used to clean furniture and electronics, such as smart phones, tablets, remote controls, keyboards, and more. They're quite handy. You can bring a pack of disinfectant wipes with you when you need to wipe down contaminated surfaces on-the-go.
70% rubbing alcohol is commonly used as a personal hygiene essential, but it can also serve as a surface cleaner when bleach and disinfectant sprays are unavailable. Just pour some alcohol on a dry paper towel to wipe down any germs on surfaces. Remember to throw out the paper towel after use.
If you want to live in a vibrant township community that values your family's happiness and safety, you should consider moving to Lancaster New City Cavite. Our master-planned township houses key establishments such as houses, office buildings, schools, places of worship, and community centers within its property. Talk to our real estate agents today to schedule an appointment.
---

Township Living
Lancaster New City in Cavite is a master-planned township where everything your family could possibly need are within reach. Apart from offering premium yet affordable
townhouses
and
single attached homes
for sale in Cavite, we also have The Parish of the Holy Family, a place of worship inside Lancaster New City; LNC Grounds, perfect venues for social, commercial, and community activities of the homeowners and their guests; Leighton Hall, a clubhouse with an outdoor pool; The Square, a lifestyle community mall; and St. Edward School.
With our affordable house and lot rates in Cavite, there really isn't a reason for you to keep renting on a townhouse that isn't yours. Get in touch with one of our real estate agents today to see how you can move into your dream home as soon as possible!